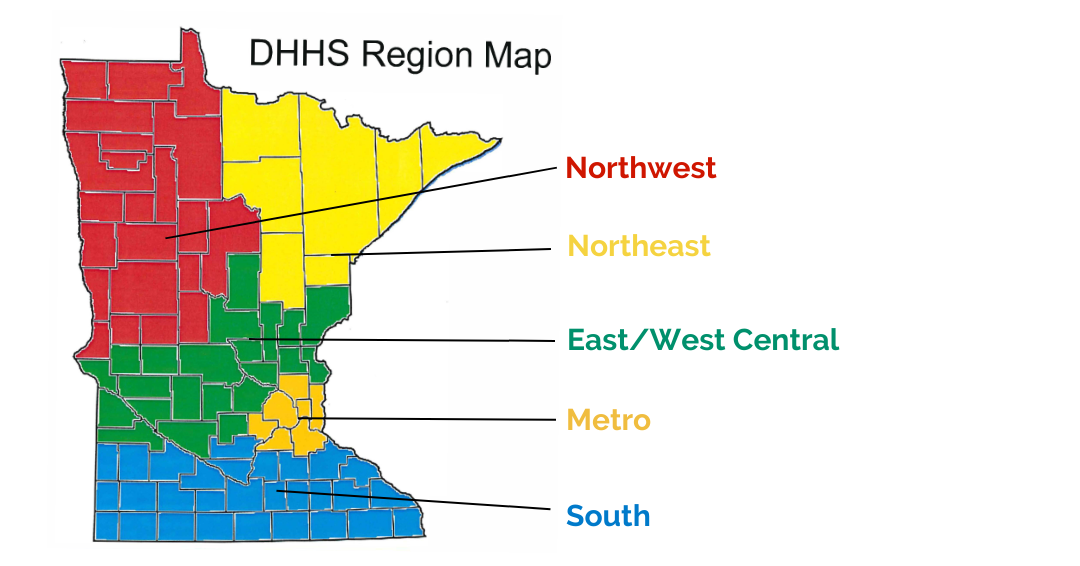 Click on each Deaf Mentor's name to see their region.
Amanda Bavlnka is from Wisconsin. She was born Deaf and is the only deaf person in her family. Growing up, she was in a Deaf and Hard of Hearing program but mainstreamed for some of the classes. In high school she was fully mainstreamed. Amanda attended Winona State University and received a Bachelor's Degree in Sociology with Psychology as her minor. Amanda enjoys being a Deaf Mentor. During her free time, she enjoys spending time with her daughter, going for a long walks, camping, and reading.

Amanda Bavlnka

South

I grew up in Wisconsin. I went to Gallaudet University in Washington, D.C. and received my BA in Psychology. After graduation I moved to Minnesota with a job offer. I currently live with my husband and we have three beautiful young boys age 8, 6, and 5. We live out in the country in Welch. I love going to our cabin and doing different fun outdoor activities with my family. I enjoy being a hockey mom and wife as my husband and boys play hockey. I also foster dogs with Wags and Whiskers Animal Rescue organization which is a very rewarding experience for all of us as a family. We have two beautiful dogs name Pookie (Mixed Boxer and Bloodhound) and Tinkerbell (Black Great Dane). I have been a stay-at-home mom for about 6 years now. I decided to go back to school as a part time student to study Early Childhood Education and Youth Development at DCTC and hope to graduate in the Spring 2019. I am excited to be part of this team and get back in the working world again.

Angela Wells

Metro 

Ashley Reuss lived in several different states--East Tennessee, Ohio, Washington DC, and has been living in Minneapolis for five years now. Ashley is a Deaf Mentor working for the Deaf Mentor Family program. When she first heard about the Deaf Mentor Program and knew that she would love to be part of the families who have D/HH child and provide them the ability to connect with their child through American Sign Language (ASL). Her family is hearing and they all learned ASL through a deaf program and this was very valuable part of her relationship with her family and would love to pass it on to other families. Ashley has BA in Social Work and Masters in Sign Language teaching. She taught at Metro Deaf School, provided Family ASL classes, worked at Minnesota Employment Center and currently is designing her new career journey providing the general community access to learn ASL. During her free time she enjoys going to yoga classes, working out, biking, reading and be surrounded with friends and family.

Ashley Reuss

Audra was born in Englewood, Colorado and raised in Greeley, Colorado. She received her Bachelor of Art from the University of Arizona, and her Master of Art from the University of Northern Colorado. She is a teacher by profession.
Audra has been Deaf since birth and started learning ASL at the age of 18 month and is the only Deaf person in her family. Audra uses bi-modal communication in ASL and Spoken English. She found her identity while attending the University of Arizona for Deaf Studies and her parents exposed her as much as possible to the Deaf community and events. Audra became a Deaf Mentor in 2011 because her family had one in Colorado. She believes it saved her family and gave her a relationship with them, so she wanted to give back to the community the same way. Audra loves rodeo and training horses. Her favorite animals are horses and dogs. She also competes in barrel racing with a professional rodeo association!

Audra McCorkle

Metro

Brooks was born in Brooklyn Park, MN and raised in Champlin, MN. He received his bachelor's degree in criminal justice from the Rochester Institute of Technology. He works as a Campus Security Officer for Starkey Hearing Technologies. Brooks has been Deaf since birth and started learning ASL around the age of 2 because he was refusing to wear his hearing aids! He uses bi-modal communication in ASL and Spoken English. Brooks is the only Deaf person in his family. Brooks became a Deaf Mentor in January 2019 because he feels that is how he can give back to the community by providing guidance to hearing parents of Deaf children. He loves to lift weights, play hockey and walk his dogs. His favorite color is blue!

Brooks Hassman

Metro

Damian Forkner, originally from Tacoma, Washington, is a Deaf Mentor with the Lifetrack Deaf Family Mentor program. He attended Arizona School for the Deaf and Blind starting at the age 3. When he was 12 years old, his family moved to the Tacoma, Washington area where he attended mainstream programs. Damian has a bachelor degree in social work from the Minnesota State University, Mankato. He is currently adjunct instructor at Minnesota State University, Mankato. He enjoys camping, hiking, biking, coaching, playing sports, and spending time with family.

Damian Forkner

South

Emily was born profoundly Deaf and grew up in the Brainerd Lakes Area. Emily has two wonderful hearing parents who strongly advocated for her educational rights in the Brainerd School District. They made sure that Emily had many opportunities for socializing with Deaf and Hard of Hearing peers and adults. Emily is a founder and director of "Dreams and Inspirations - Deaf and Hard of Hearing Camps & Retreats", setting up many different types of retreats with the Deaf and Hard of Hearing community. One of her most popular retreats is for families who have Hearing Parents with Deaf and Hard of Hearing Children. Emily is also a Co-Director of Camp Sertoma, a youth camp for Deaf and Hard of Hearing camp at Confidence Learning Center near Brainerd, MN. Emily also serves as a Commission Member on Governor Appointed Commission of Deaf, DeafBlind, and Hard of Hearing Minnesotans.

Emily Smith-Lundberg

East/West Central

Dr. Gloria Nathanson is a native Minnesotan and a mother of four children, two of whom are Deaf. She has her doctorate in audiology and teaches a course periodically at Gallaudet University related to this. She has her certificate in Deaf and Hard of Hearing Infant, Toddler, and Family Collaboration and Leadership. She serves in an advisory capacity for several things, including the Early Hearing Detection and Intervention advisory committee. Her passion is with early intervention, education, and advocacy.

Dr. Gloria Nathanson

Metro

Jackie Correa-Alley is very proud to be a Hispanic and Deaf woman. She was born in Puerto Rico and attended Deaf schools in Massachusetts. Jackie went to St. Paul Technical College and had two majors in Data Entry and Business Clerk, and in Massachusettes took up a class in Deaf interpreting. Jackie decided to do something new when becoming a Hispanic Role Model. Her belief is that it is important for Hispanic families to learn how to communicate with their Deaf/Hard of Hearing child. Jackie taught American Sign Language for 15 years through one on one, in an adult and hearing children education community. It included several different positions through advocacy, volunteering, community education, and participation in Deaf Community Organizations in the past.

Decidí buscar algo nuevo para convertirse en un modelo a seguir hispana, trabajando con el Mentor de la familia Sordo Hispana en Lifetrack. Mi creencia es que es importante que las familias hispanas aprenden cómo comunicarse con su Sordera / niño oyente. Apliqué mis experiencias de mi entorno familiar. Se me había enseñado el lenguaje de signos americano durante 15 años a través de uno en uno, en un adulto y escuchar comunidad de educación infantil, que incluye varias posiciones de trabajo diferentes como abogado, voluntario, educación de la comunidad, o la participación en organizaciones de la comunidad sorda del pasado. Puedo compartir esta experiencia para su hijo sordo como un modelo a seguir. Es genial para explorar el conocimiento hispana ganancia familiar de la cultura de los sordos para compartir a través de sus viajes. Después de todo, tenía una gran experiencia para ver cómo se están procesando a través de dos idiomas. Puedo hablar, escribir y de signos española para educar a las familias hispanas. Estoy emocionado y con ganas de ver cómo se están logrando en el aprendizaje de la lengua de signos americana y capaz de comunicarse con su hijo, porque esa es la clave.

Jackie Correa-Alley

Metro

Jackie is originally from California and has now lived in Bigfork, Minnesota for 20 years. She is the mother of four children and is an Deaf Mentor for Lifetrack. She is Deaf and wears hearing aids. She graduated from Itasca Community College in Grand Rapids and will return to Bemidji State University to complete her BA degree in teaching, but wants to continue and pursue her MA degree major in Deaf Studies. During her leisure time, she enjoys camping with her family and friends and likes to go four-wheeling and snowmobiling. She also loves to travel all over and meet new people.

Jackie Haley

Northeast

Jeff Belevender hails from Michigan and currently lives up north of Twin Cities. He is a Deaf Mentor with Lifetrack Deaf Mentor Family program. He is 4th deaf member in his family generations. He is married and has 2 young boys. Older one is hearing and the youngest one is deaf. He graduated from Gallaudet University with a degree in physical education. He is currently working part time in Mental Health area and also as a Deaf Mentor. In his free time, he enjoys fishing, spending time with his family, keeping himself busy on his hobby farm.

Jeff Belevender

Metro

Jessi Aguilar hails from Motley, MN and currently lives in Anoka, MN with her husband, three daughters and a beloved dog. She also has a younger sister who is deaf. Growing up in a Deaf/HH mainstream educational program, she learned both ASL and English. Growing up bilingual has helped Jessi tremendously with academics and throughout her career. After graduation, Jessica went on to earn her degree in social work from Gallaudet University and a social work license for the state of MN. She has worked with children and adults with disabilities and various mental diagnoses in group homes, day programs, and with case management. She is a strong supporter for the rights of individuals with disabilities. Jessi enjoys being a Deaf Mentor because she enjoys playing with children and educating families the benefits of learning ASL and about Deaf culture.

Jessi Aguilar

Metro

Joyce Atchison moved to Duluth in the Fall of 2014 after 30+ years working professionally in the field of Deafness. Joyce was born hearing, and when she was 5 years old, she had the measles and a high fever and lost 85% of her hearing bilaterally. She grew up in regular schools in several Minnesota communities, relying only on one hearing aid and lip reading. After graduating from high school, Joyce learned ASL, and it opened up a whole new world for her! Joyce has a Bachelors degree in Special Education, a Masters degree in Deaf Education, and a Graduate Certificate in Marriage and Family Therapy. For 30+ years Joyce was a Director of Deaf Ministry at MSAD, a Teacher for the Deaf and Hard of Hearing, and finally, a Mental Health Therapist for Deaf and Hard of Hearing children and teenagers.

Joyce Atchison

Northeast

Julianne currently lives in Lakeville, Minnesota with her husband and 2 teenage sons. She has been signing since she was 16 months old and was mainstreamed in a large D/HOH program. She has lived in several different states, as her father was in the military. Julianne attended a boarding high school for the deaf (MSSD) from 9-12 grade on Gallaudet University's campus. She received her degree from Metro State University. She has a BA degree in Individualized Studies with a focus in Educational Advocacy for D/HOH children and a minor in Disability Studies.

Julianne has many years of experience working with children in a K-12 grade setting who have diverse needs. Her passion is working with children, and being a Deaf/HOH advocate (intervention, education, and advocacy). In her free time, she loves to read, chat with friends, spend quality time with her family, take quick nature trips to the beach, or walk in the woods. Being a Deaf Mentor is fun and rewarding for her. She loves working with her current families, and looks forward to meeting new families!

Julianne Kinney

Metro

Julie grew up in St. Cloud, MN and is currently living in twin cities. She has been married almost 20 years and has 2 children. She was born deaf and has a younger brother who is also deaf. She is from big family. She attended a mainstream school with a Deaf and Hard of Hearing program. She attended Gallaudet University in Washington DC and earned her BS degree in Child Development. Julie is excited to be a Deaf Mentor for families! For hobbies she enjoys scrap booking and spending time with her family.

Julie Friesen

Metro

A Deaf North Carolina native, Kathy has been in Minnesota over 24 years. She is a DHH Teacher with over 20 years' experience and now is part of the Deaf Mentor Program. Making a full circle to back to younger age students, where as she has always taught older students of high school age and 18-21 years old students. She holds BA and MA degree in Education.

Currently an empty nester with her husband, Tim, and two dogs. They have a blended family of three young adult boys. Kathy enjoys kayaking, reading, traveling and enjoys nature hiking.

Kathy Manlapas

Metro

Linda Fairbanks is deaf and has several Deaf family members. She graduated from MSAD and attended Rochester Community College. She hails from SE MN and grew up in the Spring Valley/Wykoff areas. She was employed in the Equipment Distribution Program before moving with her three sons to Faribault where she was employed as a Special Education Program Specialist. After she remarried, she moved to the Mahnomen, MN area in Northwest MN. Linda enjoys being with her family, including her 4 grandchildren and working on the family tree.

Linda Fairbanks

Northwest

Mai Vang is from St. Paul, MN and has lived in St. Paul ever since she moved from Kansas when she was a child. Mai comes from a full-hearing family and is the only person who is deaf in her whole family. Mai was born hearing then became deaf at the age of 1. She started to learn ASL when she was enrolled in Pre-K school at Rondo that has deaf and hard of hearing program. Mai currently works at ARCH Language Network in St. Paul as a Financial Services Specialist and Deaf Mentor. She recently decided to go back to school to complete her degree in Office Technology and is planning to further her education in human services. In her free time, Mai enjoys spending time with her son. She also loves to go to gym, bike, and loves watch sports, especially basketball and football.

Mai Vang

Metro

Marissa was born and raised in the Chicago suburbs. She grew up using ASL & English with her family. She attended mainstreamed schools that provided Deaf Program Services. After high school, she attended Rochester Institute of Technology (RIT) in Rochester, NY to obtain her Bachelor's in Psychology. At some point during college, she realized that she had a passion for doing something with ASL, working with Deaf children, and ultimately, language teaching. She then pursued her education at Gallaudet University in Washington D.C. for her Masters in Sign Language Education. Marissa moved to Minnesota for job opportunities in 2017 and is beyond excited to join the Deaf Mentor Team and work with hearing families that have deaf children.

Marissa Polvere

Metro

Mandy MacDonald has been a Deaf Family Mentor for Lifetrack for the past 4 years, in addition to 3 years prior with DHHS. She was born deaf to a hearing family in Biwabik, MN and was mainstreamed with an interpreter in a public school in Virginia, MN. She graduated from Mesabi Range Community and Technical College with both A.A. and A.S. degrees and from University of Minnesota-Duluth with a B.S. degree, majoring in Biology. After a few years of being a Bird/Reptile Curator at a ND zoo, she is now an Information Specialist II with the Public Health & Human Services for St. Louis County. She is married with 2 sons. In Mandy's free time, she enjoys kayaking, disc golfing, reading, and spending time with family and friends. She enjoys being a deaf mentor and seeing the family's ASL skills and communication grow.

Mandy MacDonald

Northeast

Minnesota native Melissa Forkner, is a Deaf Mentor for the Lifetrack, Deaf Mentor Program. She became deaf when she was one-half years old by spinal meningitis. She learned sign language when she was two years old and went to preschool for the deaf program. Her mom and family moved to Faribault, Minnesota when she was five years old where she attended Minnesota State Academy for the Deaf. She graduated with a Bachelor of Arts degree in Theatre at Minnesota State University-Mankato. She is currently teaching American Sign Language classes as Adjunct Teacher at Minnesota State-Mankato.

Melissa Forkner

South

Michele Rolewitz attended North Dakota School for the Deaf and the National Technical Institute for the Deaf/Rochester Institute of Technology. She has worked at North Dakota State University Financial Aid and Scholarships for 33 years. She also teaches ASL classes. She is the Deaf Mentor Family and Deaf Mentor Interpreter. She is married to a deaf man who has a deaf family. She has been involved in the North Dakota Association of the Deaf and Deaf community. She enjoys being with her family, cats, gardening, and traveling. Being a Deaf Mentor Family, she enjoys teaching families American Sign language (ASL) and wants to see the whole family have full communication access with their deaf child without any barriers. She would love to see every family have a strong bond by being able to communicate fully. She has three CODA (Child of Deaf Adult) children and 5 grandchildren plus one is on way that is due in October.

Michele Rolewitz

Northwest

Migdalia is from Boston, Massachusetts. She received her Associate of Applied Science from Rochester Institute of Technology and works as a Medical Claims Processor for Arch Language Network. Migdalia became hard of hearing at the age of 4 due to an ear infection, and Deaf after an accident during a visit to the ocean. She learned to sign a in high school but flourished with her peers when she attended the National Technological Institute for the Deaf / Rochester Institute of Technology. Migdalia uses tri-modal communication in ASL, Spanish, and Spoken English. Her grandmother was also deaf but passed away when she was only 16, and she has a daughter of her own that is hearing. Migdalia became a Deaf Mentor in March of 2019. She decided to become one because she loves to teach and educate, as well as recognizes the importance of ASL in deaf and hard of hearing children. She is active in the Deaf Community as a Treasurer for Deaf Equity and is currently working on a project for Deaf Domestic Abuse Survivors. In addition to being an independent thinker, Migdalia loves to read books, do crafts, and play with her Maltese and Chihuahua!

Migdalia Rogers

Metro

Sharon Rosen is originally from Melrose, MN. Born deaf, she attended the MN State Academy for the Deaf and graduated from University of Minnesota-Waseca with a degree in Horticulture. After taking some time to raise her four children, she become a Deaf Mentor in 2000 and has enjoyed her job ever since. Over the years, Sharon has seen many families with deaf and hard of hearing children who have nothing or little knowledge of both ASL and the Deaf Community. Because of this, she is passionate to teach both the language and the importance of embracing Deafness.

Sharon Rosen

East/West Central

Stephanie Nutt

Stephanie is from Brainerd, Minnesota. She attended Gallaudet University majoring in Communication Studies. She works as a Direct Support Staff for a group home with adult foster clients. Stephanie became deaf at the age of 2 from spinal meningitis. She learned ASL with other Deaf children and interpreters after being enrolled in preschool. Stephanie was mainstreamed growing up, and attending Gallaudet gave her a rich, life-changing experience as well as improved her ASL. She uses bi-modal communication in ASL and spoken English.
Stephanie became a Deaf Mentor in August of 2018. Having grown up as the only Deaf person in her family, she recognizes the need and impact for ASL and wants to help Deaf children have access to ASL.
Stephanie loves to paint and loves dogs tremendously, she hopes to have a dog in the future. In 2017 Stephanie traveled to Costa Rica and rode on one of the top 10 ziplines in the world!