Pursuit Of The New American Dream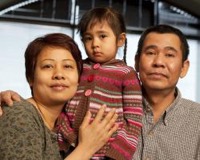 Min, a recent refugee from war-torn Burma, was motivated to start a new life in America with his wife and two children. He, however, knew he faced significant challenges: lack of job experience in the United States, dependence on public transportation to get to work and limited English.
Together with his Lifetrack Employment Specialist, Amy, Min secured a three-month transitional employment position so he could build work experience in his new homeland, in addition to learning more about American work-culture. Shortly after completing the training, Min found a job but continued to work with Lifetrack to find one that would be a better fit for his family: he needed to work closer to home and the family needed health benefits.
Min's persistence was rewarded when BIX Produce Company hired and then promoted him after just three months. Min continues to be recognized for his hard work, reliability and willingness to assist other Karen and Burmese employees who need interpreter services. BIX Produce is also pleased to find a new place for employee recruitment in the sizable and growing Karen and Burmese community.
"Many refugees from Burma have nothing and have little hope. We have hope here. We can find them a job and they can look after their family and stand on their own feet," shared Amy, Lifetrack Employment Specialist.
Min and his family continue to pursue the New American dream. With the purchase of a car and stable housing, Min, his wife and children are able to spend time together as a family. Min is greatly respected by his community and has inspired hope and courage among his peers. He shares, "We now have hope to reach our goals. Agencies like Lifetrack help us so that we all have a good job and a good life."