Finding A Connection In A Hearing-Centered World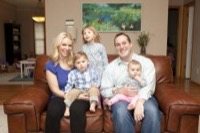 Wayne and Allison are the type of parents who gush unapologetically about their kids. Wayne will even refer to his son as the "apple of my eye" in public. This endearing quality gives you a sense of just the kind of nourishing home Wayne and Allison were building as a family, when they found out they were expecting their second child, Frederick.
What they didn't expect was that Frederick would have certain challenges that other kids do not. Early hearing tests revealed that Frederick had severe/profound hearing loss in both of his ears. "It was something we were not prepared for and we didn't know what to do next," said Wayne.
In their home in Illinois, the hospital connected them with a variety of resources that helped them start to understand how to help their son. However, when Wayne accepted a position at 3M in Minnesota, all of that changed. "We felt a little lost again once we got out here," said Wayne.
That's when Wayne and Allison's simple Google search brought up Minnesota Hands & Voices. They met with a Parent Guide, Robin, who helped them understand the medical and educational options available. But what made the greatest impact was attending Minnesota Hands & Voices family events. "When Frederick was diagnosed, our hope was that he would grow up to lead a normal life," said Wayne. "And having family events, where you can see kids a few years older than Frederick just being typical kids is unbelievably comforting to me as a parent."
That is the ultimate goal of Minnesota Hands & Voices – to offer parents tools to help their kids succeed while building a rich community where families find understanding, support and friends.
Minnesota Hands & Voices, a program of Lifetrack, is a community that offers support and resources to families with children who are deaf and hard of hearing. Learn more at www.MNHandsandVoices.org.