Families Together Services | Therapeutic Preschool Visits Aamodt's Apple Farm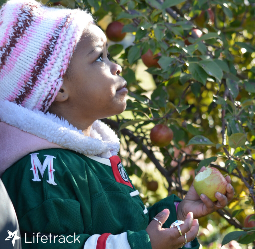 The crisp morning air was immediately made warmer by the smiles of Lifetrack's Therapeutic Preschool students as they eagerly exited the school bus at Aamodt's Apple Farm in October. After weeks in the classroom, talking about apples and how they grow, the students were finally able to experience a real apple orchard. 
For the teachers and therapists that comprise the preschool team, this field trip was an important opportunity for their students to practice some of the skills they learned in the classroom like waiting in line, following simple directions and staying with the teacher. Skills like these may come easily to other children, but often prove difficult for Families Together Preschool students due to various challenges they may face.
"Oftentimes, children who have experienced some form of trauma will struggle with outings in the community due to sensory overload, unfamiliar places and routines, and possible trauma triggers," said Jessica Ostrander, preschool supervisor. "Our one-on-one staffing model for field trips provides children with a 'regulating partner' to help ensure that they have the support needed to have a fun, safe and successful experience."
Fun, safe and successful was the goal as students walked hand-in-hand with preschool team members to the first activity of the day — unboxing gifts from the Minnesota Wild, which included jerseys, foam claws and drawstring bags. The Minnesota Wild partnered with Lifetrack on this event, coordinating multiple activities for the children throughout the day. "I'm glad we were able to provide them with a memory they will enjoy, and they were able to do something they normally wouldn't get to do," said Kalli Funk, coordinator of hockey partnerships for the Minnesota Wild.
With all of their new hockey attire in place, it was time for these preschoolers to go outside and enjoy a hayride and apple picking. This was a fun way for the students to experience new things first-hand as they learned about the world around them. One three-year-old girl exclaimed, "So THIS is where apples come from!" The students feverishly filled their bags to the brim with hand-picked apples to take home to their families. After lunch and pumpkin decorating, the preschoolers ended their day by playing with their classmates on the playground and visiting with the farm animals on site.
As everyone walked back to the busses the team reflected on what an incredible day it had been.  "Preschool staff members were overwhelmed by the generosity and thoughtful planning that went into making this day happen," Ostrander said. 
Lifetrack is grateful to the Minnesota Wild for serving as a partner on this wonderful event and ensuring that it truly was a fun, safe and successful experience for everyone.