Employment Services | Paul's Story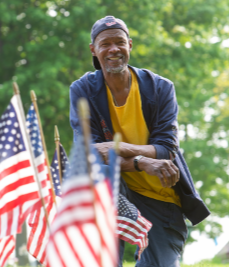 Paul found the perfect match when he landed a job as a landscaper at a sprawling cemetery in Minneapolis in the spring of 2019. He prefers working outside and values the freedom to work at his own pace, keeping the 250-acre cemetery pristine and beautiful.
The wages from Paul's job will support him to pursue his long-term goal of renting his own apartment. He has been experiencing homelessness for more than a year. Now with steady employment, Paul said his goal of placing a deposit on a new apartment is within reach.
He currently stays at a shelter that works with residents to save for a down payment on permanent housing. "That will make a big difference," Paul said. "I'll be more independent and have a place I can call my own." Paul is among more than 1,400 people who worked with Lifetrack Employment Services in 2018 to find meaningful career opportunities.
Paul moved to Minnesota from Florida in 2017 to live with his high school sweetheart. Their relationship ended, leaving Paul without a place to live. With no family in Minnesota, Paul moved between homeless shelters and often relied on public transportation for a warm place to sleep during the dangerously cold winter months.
"You have to sleep wherever you can," Paul said. "I have slept on the train many nights because I didn't have a place to stay. It's not fun; you can't get comfortable or the police tell you to get off."
Without a safe, stable place to stay, Paul struggled to find steady employment and worked odd jobs that paid little. At the time, a combination of Paul's medical issues and minor legal trouble led to depression and anxiety, which made it difficult to pursue his goals.
The county referred Paul to Lifetrack Employment Services. He met with Amy, a Lifetrack workforce coach, to develop a cover letter and resume and find local hiring opportunities.
Amy and Paul often met at cafes and coffee shops, which meant Lifetrack could also offer Paul a meal. To help meet Paul's other immediate needs, Lifetrack provided gift cards for food, clothing to keep him warm during record-breaking blizzards and professional clothing for job interviews.
After working with Paul to help him update his cover letter and resume, Amy referred him to numerous hiring events. He attended every single one. "Paul was perfect for our employment services because he really wanted to work," she said. "He loved working outside. With spring coming, he was eager to get a job."
Paul's dedication to his personal and professional goals paid off. This spring, he landed his current job at the cemetery. With a pay raise expected, new possibilities continue to open for Paul. He has paid off personal debts from friends who lent him money when he needed to get by. Paul said he is now able to provide for himself more and plans to move into his own apartment in a couple of months.
Securing rental housing can be a challenging process for people who've experienced homelessness or legal issues. With continued access to Lifetrack services, Paul will have Amy in his corner. She will be there to support Paul with apartment-hunting, furnishing his home and helping him access other housing resources. Paul continues to attend classes with Lifetrack to build his professional skills.
"I've come a long way," Paul said. "I still have a few obstacles, but I feel confident I am headed in the right direction. I've got a lot of help behind me."
Please consider a gift today.  With your gift, Paul and others who experience significant obstacles to employment can access Lifetrack services and find a path to a successful future.