Driving A Career Forward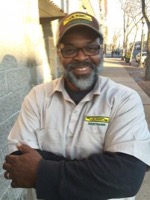 Marlon finds fulfilling employment through Lifetrack's Train-to-Career program.
With his head held high, a big smile on his face and his company uniform on Marlon walked back into Lifetrack's office feeling like a million bucks. Marlon joined Lifetrack's Train-to-Career program just last year and he was already feeling the perks of success.
Marlon is an army veteran who was unemployed, unfulfilled and looking for a new career. He was motivated to find work and was considering taking classes at Heavy Metal Truck Training when he learned about Lifetrack's employment program. Soon after, Marlon met with a Lifetrack Employment Specialist to get started in the program.
Lifetrack offered extra support and direction while Marlon earned his Class A Commercial Driver's License. The Train-to-Career program pays for short-term trainings like this and offers employment counseling and job search support. Marlon found a commercial driving job quickly after his training, but he still was not quite happy. He was working with carriers where he would be gone for a week at a time—missing out on precious family time. "I'm a family man—you know that!" Marlon said. "I just had to be home every night."
But with his training and a little experience under his belt, Marlon was heavily recruited—he's now in his dream job working as a local driver for JB Hunt.
"With the other companies I was sacrificing a lot... I [didn't want to] be away from my family. Now, I drive around Minnesota, Wisconsin and Iowa and I'm home every night."
Marlon said he's gained respect at home from his new career, too. "Before, my family could rely on me to be available—to be around. Now, they can rely on me financially. I just loaned someone in my family some money. They knew that they could ask and that I could actually do it. Man, it felt great."
Marlon isn't stopping with just his short-term goals. He's saving for the future. "My goal is to buy a truck and run it myself. It will take some time but I know that with the rate [I'm making] I'm able to save money, I will get there. That's what keeps me going."
"This is an in-demand field. Guys are retiring and companies are looking for new drivers," Marlon said. "If you really learn the industry and are willing to work hard, there is no reason you can't be successful and have a long career driving."
Lifetrack's Train-to-Career program serves Minneapolis residents who are looking to begin new careers in high-growth industries.