Being An Advocate For Her Child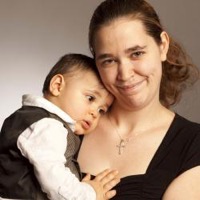 Tammy strives to be a great mom and is always looking out of for the best interest of her one-year-old son Alex. Tammy receives wrap-around services from a few agencies including a home visitor from Lifetrack. Tammy's home visitor helps her set and work toward goals, teaches strategies for reducing her stress, and planning for the family that will best meeting the Alex's needs.
Lifetrack's home visitors and their families work on a variety of activities that the parents and their children to do together including making toys from supplies that can be found in the home. Tammy is always excited for these activities.
One day, they were working on making rattlers that use duck tape as part of the design. Tammy addressed concerns about Alex putting the tape in his mouth and if any toxins were released from the duck tape.
The home visitor contacted both Duck brand tape and Growing Great Kids, who provides the curriculum for the activities to investigate further and found out that the tape is indeed safe for children.
Thanks to Tammy advocating for the safety of her son Alex, Growing Great Kids changed their policies and now includes a set of toy safety handouts to home visitors.
Tammy not only has acted in the best interest of her own son but has set an example for other parents to be advocates for their children.