Ten Years After Lifetrack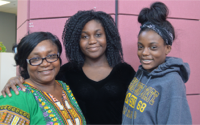 Peace and her husband Patrick Anigbou came to the U.S. in 2004 from Enugu, Nigeria and participated in Lifetrack's employment programs soon after that. Peace met with Diane Heldt, who at the time was an employment counselor with Lifetrack and is now our Vice President of Employment and Economic Opportunity. More than 10 years later, we got the chance to catch up with Peace and two of daughters! Peace is now a Registered Nurse and two of her children are Pre-Med in college, the other three are finishing up high school. Read more about Peace's story below.
"My husband and I are from Enugu, Nigeria and we first came to America in 2004 without our children. After 3 months, we were finally reunited with my children Princess, Patrick Junior, Robert, Emmanuella, and Colette . Life in America was hard. My husband and I came from an educated background but in America, we had no rent history, no job history. We had nothing. We were so lost in a new country and trying to get familiarized with a new culture. After months of job searching, we saw Lifetrack's Employment Services program through the newspaper.
I can still remember the first time I met Diane Heldt who helped us with job coaching, writing resumes and cover letters and job search and helping us enroll in CNA training. She also helped me find a stable home for my family, help get the family familiarized with the community, how to use public transportation, and helped us get furniture and household appliances. Diane helped my whole family apply for health care insurance, and attended job interviews with me. After I got my first job I had the opportunity to attend English classes and then enrolled at Century Community College. I was so happy when I received my Associates Degree.
One of my favorite memories that I will never forget is when my family celebrated Christmas for the first time together in 2004. It was truly amazing. My children saw snow for the first time and played outside a lot. We also got many gifts from Lifetrack and my children were so happy. I am so grateful for Lifetrack, Diane and the Minnesota community who showed so much love to us. Life in America has been great! My children are in high school and college, I am now an RN and my husband has a good job to support the family. We are living the American Dream. I wish people know more about Lifetrack because they helped me and my family a lot and are always there for me like a friend. Lifetrack walked next to my family so we could find our way in America. The support I have gotten from Lifetrack is something I will never forget."