Deerwood Bank's Hug Basket Tradition Brings Power, Healing and Love to Lifetrack's Therapeutic Preschool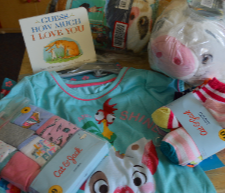 Recently, volunteers from Deerwood Bank stepped into the classroom to help deliver a lesson in love to Lifetrack's Families Together Therapeutic Preschool students through Hug Baskets. Hug Baskets are a tradition started by Deerwood Bank in 2005 - a tradition they have continued to sponsor for the last 13 years.  Hug Baskets are centered around creating a bedtime routine, and include items like pajamas, a blanket and a toothbrush kit.  These are items that may not be readily available for Lifetrack's preschool families, but they help create stability, routine and healing. 
"If children never have enough, they often do not have things that are actually theirs.  So, when they get something that is just for them, that was picked out for them, and that was meant for them, it holds so much power and healing," said Kat Kane, Lifetrack's early childhood therapist.  
And powerful it was!  When the preschoolers' names were called, they squealed with delight, ran to grab their baskets and feverishly dug into the gifts inside.  With each gift that was uncovered, they would proudly show it off to their fellow classmates.  Visibly moved by the preschoolers' excitement, the Deerwood Bank volunteers noted how special it was to be a part of this experience by handing out the baskets, helping them unwrap gifts and sharing in their joy.  
"We truly value our long-standing relationship with Deerwood Bank and their commitment to our preschool program.  We have grown very fond of the hug basket tradition and our kids always look forward to seeing 'the bankers'," said Jessica Ostrander, assistant director of the preschool. 
Everyone involved enjoyed the Hug Basket event - and that is all thanks to the wonderful people at Deerwood Bank.  These moments of power, healing and love would not have been possible without their continued support and commitment to Lifetrack's mission.   
Thank you, Deerwood Bank!