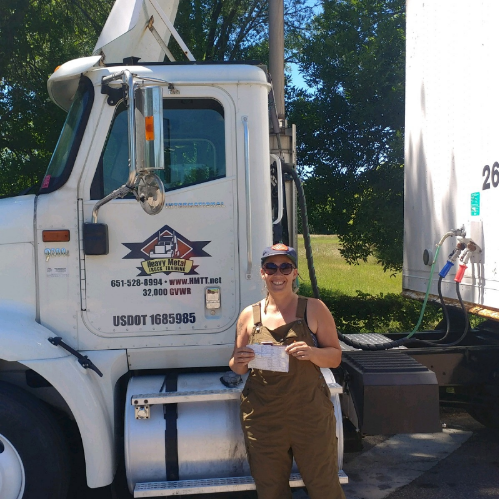 You Changed Ava's Life
Ava is an immigrant from Eastern Europe who settled in Minneapolis to make a better life for herself and her young child.  Unfortunately, this proved to be more difficult than she ever imagined.  The only jobs she was able to get paid minimum wage and barely covered her expenses.  Her dream was to find a career that would be able to support her family in this new country while offering her the flexibility to balance the demands of motherhood.  She needed support and guidance to reach her goals.
Through your generous donations, Lifetrack's Employment Services was there to step in and help Ava. 
We provided her with an employment coach and completed a comprehensive assessment of her skills and talents.  We guided Ava through a career discovery process that allowed her to identify her strengths and goals.  She was also able to meet with mentors who could give her insight into what various career paths might offer.  Ultimately, she enrolled in Lifetrack's Pathways to Prosperity Commercial Trucking Program, because it led to a good wage in an occupation with many opportunities.  Ava continued to work with her employment coach as she learned the skills necessary to find and retain a job, as well as financial literacy training to help develop the foundations for family stability.   Soon, Ava was attending a course at Heavy Metal Truck Training that would lead to her earning a commercial driver's license (CDL). 
After four months of classes and hands-on experience, Ava took her commercial driver's license test and passed on the first try.  A CDL opens multiple career paths from long-haul trucking to bus driving and local delivery.  When she graduated, Ava already had multiple offers from companies throughout the Twin Cities.  She decided on a job with DHL, that involved a day route with a starting wage of over $21 an hour, full benefits and opportunities for career advancement over time.  Most importantly, it offered her the stability and flexibility to care for her child. 
Thanks to your support, Ava achieved her dream.                         
And Ava is just one example of your impact!  Through your support, Lifetrack's Employment Services helped 91 families find jobs and get off public assistance last year, saving the State of Minnesota $1.07 million dollars.
You can change the lives of countless others by donating to Lifetrack today. 
Here's what your donation can do.                                                               
Employment Services
$45 provides a program participant with a monthly bus pass to go to and from job interviews.
$70 provides an individual with interview clothes, shoes and accessories to help them obtain employment.
$5000 provides a full tuition training scholarship for one individual to receive their CDL certification.
Child & Family Services
$100 provides one hour of therapy for our preschool students.
$140 provides one hour of home visiting services.
$300 provides one group connection event for Families Together program participants.  These events connect families and build a community network.
Deaf & Hard of Hearing Services
$10 dollars provides a Welcome to Our Community blanket for each family.
$30 provides a family with a book about advocating for their child in school.
$75 sponsors a family for American Sign Language classes.
$150 provides a two-hour Deaf Mentor session for a family.
Click here to donate to Lifetrack today!