Ways to Give
Donate Monthly
We are genuinely honored by our supporters who believe deeply enough in our vision to give on a regular basis. By becoming a monthly donor you are helping us build strength and stability in partnership with families throughout the community.
Tribute & Honor
Your gift will work to improve our community for years to come as a permanent tribute in honor of your loved one.
Use AmazonSmile To Give Back To Lifetrack!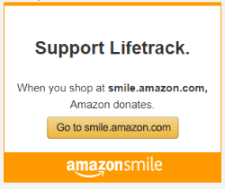 AmazonSmile is a website operated by Amazon with the same products, prices, and shopping features as Amazon.com. The difference is that when you shop on AmazonSmile, the AmazonSmile Foundation will donate 0.5% of the purchase price of eligible products to the charitable organization of your choice. Lifetrack is now connected with Amazon Smile, select our organization on AmazonSmile and shop away! Tens of millions of products are eligible for donations. 
Planned Giving
Lifetrack is committed to ending disparities in our community now and in the future. A planned gift supports ongoing initiatives that help individuals realize their full potential while strengthening the community.
Stocks and Securities
Donating stock is easy! You could be saving on taxes while helping others. When you transfer appreciated stock directly to Lifetrack, you do not incur capital gains.
Corporate Giving
Corporations and business owners are recognizing more and more that one of the keys to finding and retaining the most valuable employees is by having a corporate social responsibility program. Partnering with Lifetrack is an excellent way to promote your corporate social responsibility goals while making a lasting impact.
Lifetrack has worked with corporations of all sizes to build customized partnerships that allow them to give back to communities through:
Employee volunteer days
Cause marketing campaigns
Product donations
Financial support
Grants and awards programs
Benefits of being an official Lifetrack partner include:
Public awareness and marketing campaigns
Tax deductions
Co-branding opportunities
Improved employee morale